Help Us Care For Ferals!
DETAILS:
You can feed anytime between these hours on these days:
MONDAY-FRIDAY: 9am-6pm
SATURDAY: 9am-3pm
Sunday: 7am-9am
1. Working Cat Pen Feeders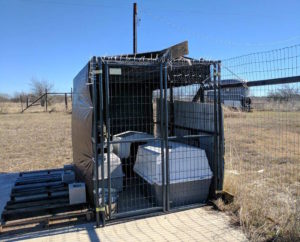 Thanks to a generous donation from a volunteer and lots of ingenuity and "elbow grease" from other volunteers, we now have a temporary pen to keep fixed Working Cats in while they wait for adopters! We have plans to build a much better enclosure, but for now, we are grateful the cats don't have to stay in small cages. Caring for the cats in this pen is much easier than caring for them in cages in the Cat Shack because the cats are not in cages! All you need to do is replace food, water, and litter...a 15 minute task.
The litter pans are kept in a kennel to help contain stray litter, so the contents of the kennel can be dumped into the dumpster, which is in front of the cat pen.
Food, litter, and disposable litter pans are located next to the cat pen.
Water can be obtained from the hose at the back right of the shelter, or inside the shelter.
If you need to replenish supplies, shelter staff can show you where everything is.
2. NBCCC Released Feral Cats in the HSNBA Barn
HSNBA has released fixed ferals into the barn on the shelter property (3353 Morningside Drive, NB, 78132) when adoptive barn cat homes were not available. The barn is located at the top of the driveway near the street, on your right as you turn off Morningside into the the shelter. Please help us keep these kitties fed & watered! This is a quick and easy task that takes less than 10 minutes to complete. On your scheduled day, you may feed/water the HSNBA barn cats at your convenience during normal shelter hours.
Please use about 1 small bag (3lbs) of cat food distributed into the food bowls. The shelter may have opened cat food bags that were donated. Since opened bags can't be used for shelter animals, please use them for the barn cats. If you are able to donate cat food for the HSNBA barn cats, please consider doing so
The shallow round, metal bowls are for water. You can use a bucket from the shelter to transport the water, or your own container.
Thanks for your help in saving the lives of feral cats and making life better for them.
If you have any questions, contact Linda@nbcats.org
Sign up below...
January 17, 2019
January 18, 2019
January 19, 2019
January 21, 2019
January 22, 2019
January 23, 2019
January 24, 2019
January 25, 2019
January 26, 2019
January 28, 2019
January 29, 2019
January 30, 2019
January 31, 2019
February 1, 2019
February 2, 2019
February 4, 2019
February 5, 2019
February 6, 2019
February 7, 2019
February 8, 2019
February 9, 2019
February 11, 2019
February 12, 2019
February 13, 2019
February 14, 2019
February 15, 2019
February 16, 2019
February 18, 2019
February 19, 2019
February 20, 2019
February 21, 2019
February 22, 2019
February 23, 2019
February 25, 2019
February 26, 2019
February 27, 2019
February 28, 2019
March 1, 2019
March 2, 2019
March 4, 2019
March 5, 2019
March 6, 2019
March 7, 2019
March 8, 2019
March 9, 2019
March 11, 2019
March 12, 2019
March 13, 2019
March 14, 2019
March 15, 2019
March 16, 2019
March 18, 2019
March 19, 2019
March 20, 2019
March 21, 2019
March 22, 2019
March 23, 2019
March 25, 2019
March 26, 2019
March 27, 2019
March 28, 2019
March 29, 2019
March 30, 2019
April 1, 2019
April 2, 2019
April 3, 2019
April 4, 2019
April 5, 2019
April 6, 2019
April 8, 2019
April 9, 2019
April 10, 2019
April 11, 2019
April 12, 2019
April 13, 2019
April 15, 2019
April 16, 2019
April 17, 2019
April 18, 2019
April 19, 2019
April 20, 2019
April 22, 2019
April 23, 2019
April 24, 2019
April 25, 2019
April 26, 2019
April 27, 2019
April 29, 2019
April 30, 2019
May 1, 2019
May 2, 2019
May 3, 2019
May 4, 2019
May 6, 2019
May 7, 2019
May 8, 2019
May 9, 2019
May 10, 2019
May 11, 2019
May 13, 2019
May 14, 2019
May 15, 2019
May 16, 2019
May 17, 2019
May 18, 2019
May 20, 2019
May 21, 2019
May 22, 2019
May 23, 2019
May 24, 2019
May 25, 2019
May 27, 2019
May 28, 2019
May 29, 2019
May 30, 2019
May 31, 2019